A passion for wine that turned into a way of life
Corkscrew Wine & Cheese is a wine bar and retail wine shop under one roof. With 700 choices for wine we offer everything from California to Chianti and from $10 to $300 without being overwhelming. Visit us for your next wine purchase and let us deliver a better bottle within your budget. Bring your friends for a great alternative to the bar scene at our wine bar. From lunch to close, we serve 20 wines by the glass, beer & spirits along with menu of snacks and desserts. Host a happy hour, party or meeting up to 50 guests in our private garage at our Blackstone location. Stop by before or after dinner and enjoy a glass and snacks on our outdoor patio.
Corkscrew Wine and Cheese was established by husband and wife Corey & Anne Keith in 2005. We wanted to bring the two concepts of a wine shop and wine bar under one roof. You could take the multipage business plan and distill it down into three words: Starbucks meets wine.
Corey and Jessica Keith, a brother and sister team launched the second Corkscrew location in the newly developed Blackstone neighborhood. Sharing the same values, commitment, and loyalty; not to mention love of wine; the Blackstone Corkscrew was developed and opened for business in early 2015.
At Corkscrew we want to create that third place outside of home and work where you live your life and have a social experience. Come in & enjoy!
Private Parties
Corkscrew's Private Party Room at the Blackstone Location has glass garage doors that open to our patio add a distinctive and modern addition! Planning a once in a lifetime event or weekly meetings perfect for birthdays, bridal / baby showers,wedding receptions, corporate events/ lunches, holiday parties, networking events and fundraisers.
Blackstone & Rockbrook can close to the public for large private events up to 125 + people. Both locations offer reservations, semi-private parties, private parties & full venue rental for large events.
No matter how many variables we think of, there are always unique desires. let us know of any special needs, wishes or questions. Contact us to book the space for your next social event!
We also offer full OFF-Site Catering, Catering Delivery as well Catering Pick Up!
$15 dessert fee will be charged for all desserts brought from the outside.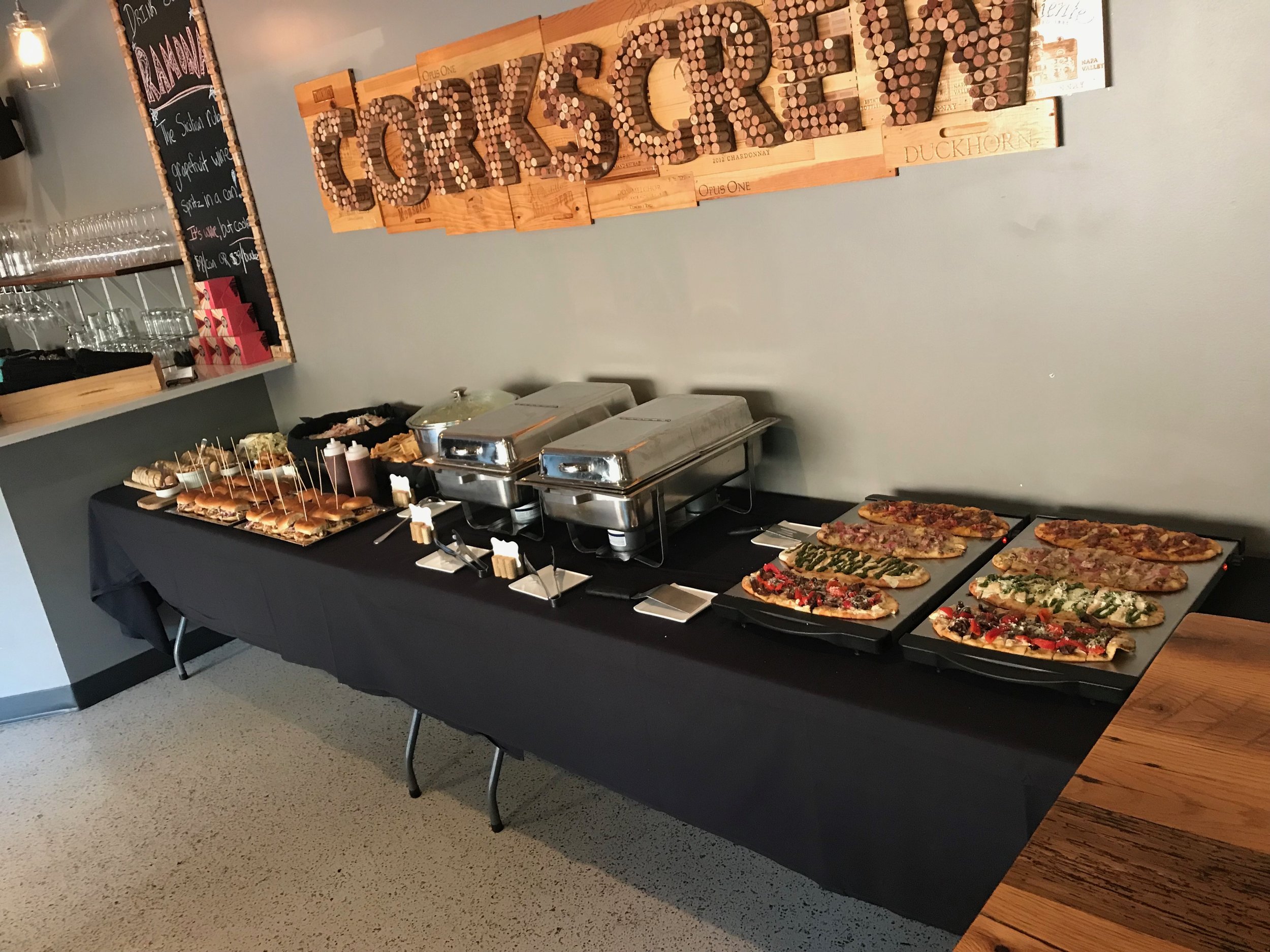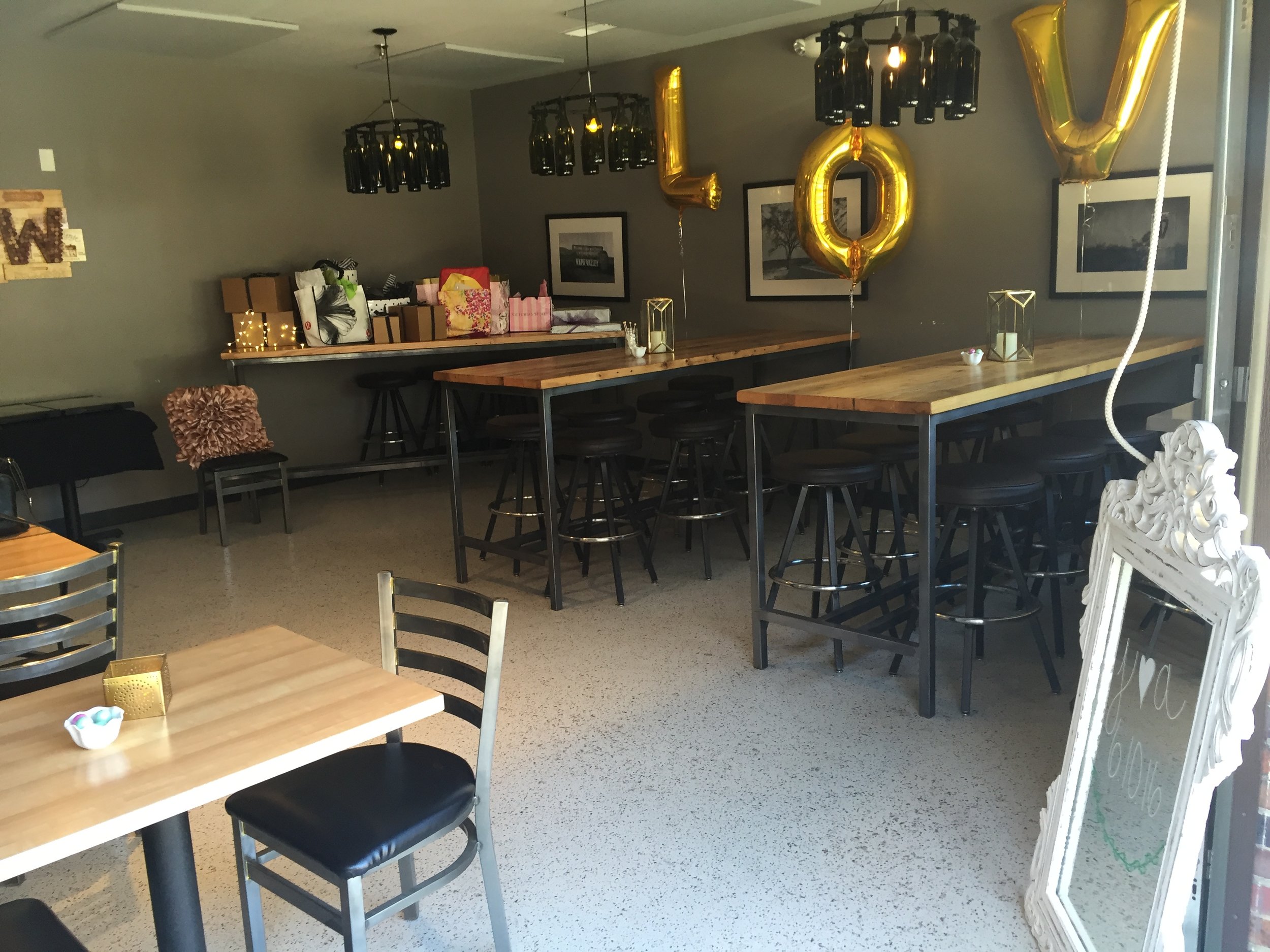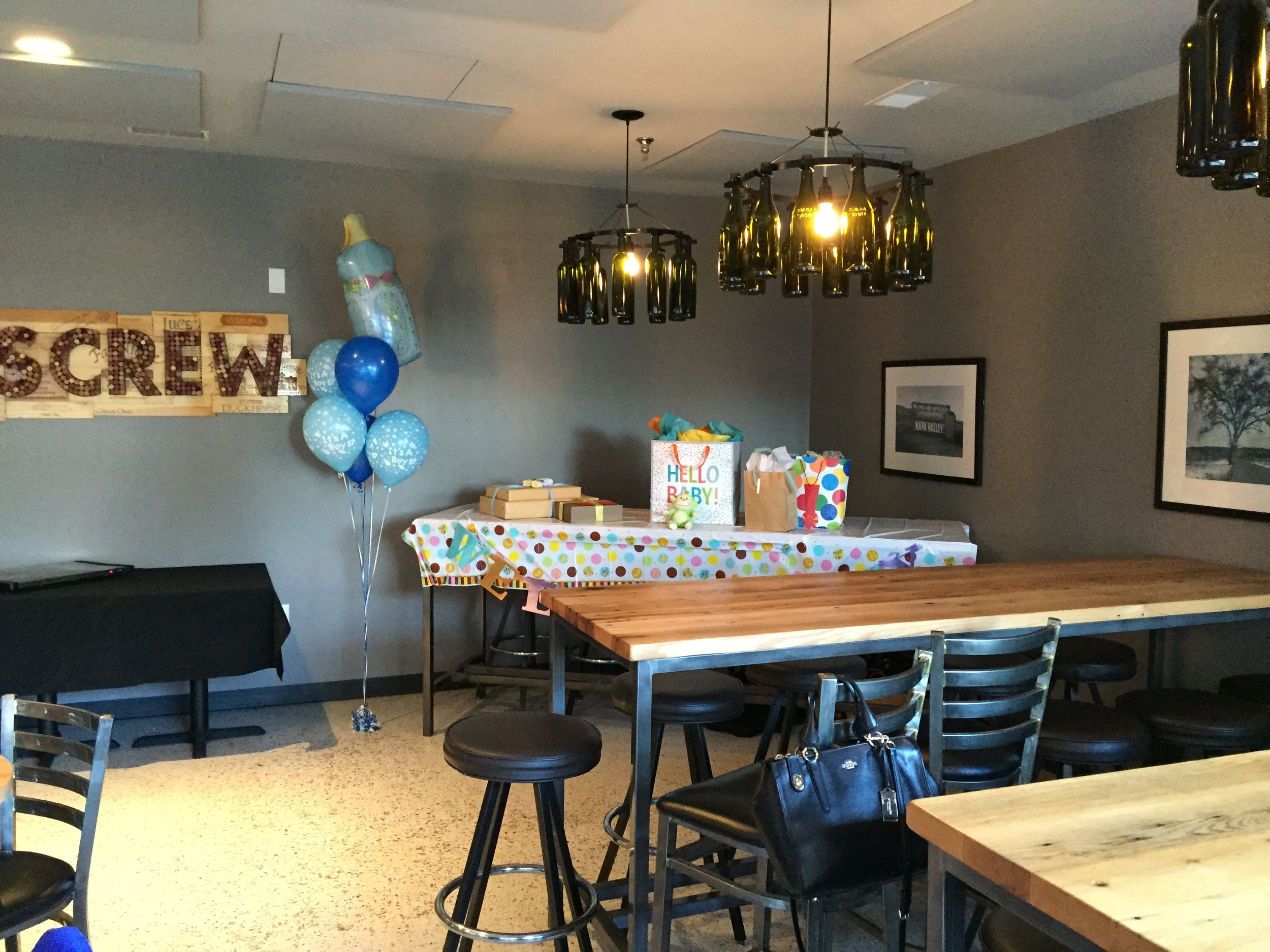 wine tastings
Wine Tastings are a fun way to learn about new wines! It is a great way to enjoy company with loved ones, friends, celebrating a bridal / bachelorette party, birthday celebrations, work outings or just with the intent to try something new! We offer wine tastings that range from informal to completely customized specific to you and your group. We have wine tasting options for all group sizes.
Want a more intimate tasting hosted in your home? We offer offsite Wine Tastings throughout the greater Omaha-land area.
Contact us today to arrange a Wine Tasting for your next social event!
*Wine Tastings must be arranged in advance.
Corkscrew Wine Classes
Take your knowledge of wine to the next level! Our intent is to provide wine education and training at all levels in a non-intimidating way. We offer a variety of ways for every customer to learn more about wine. Wine classes are more classroom style that is interactive with an average of 24 people per class. A $5 off coupon to use towards a retail purchase for each participant! If you are looking for more of a social outing with some wine education check out our Wine Tasting options.
Classes are located at our Blackstone location
CHampagne
Monday, Dec 2nd at 6pm
Celebrate with bubbly! Join us as we discuss the different types of bubbly and what makes Champagne - Champagne. Cheers!
60 Minute Wine Class
$35 per person plus tax per class
Includes Sampling Wines & Light Snacks
V-Day Date Night Wine 101
Monday, Feb 10th at 6pm
Surprise that special someone or bring all your girlfriends for a fun way to celebrate Valentines Day! "How is wine made? How do you taste it? What does "oak" mean? Enjoy this fun, interactive class over our favorite beverage - WINE! We'll help you taste like a pro!"
60 Minute Wine Class
$35 per person plus tax per class
Includes Sampling Wines & Light Snacks
Cancellations are accepted for a full refund with notice of at least 14 days prior to your scheduled class date.
Past Wedge Pairing Emails
Wedge
Ever had trouble selecting cheese to enhance your wine, or wine to complement your cheese?
Wish you could just drop by and have a bottle of wine and a light appetizer or dessert waiting for you?
Maybe you've had a long day and you need something to munch on while you're preparing dinner.
If this sounds like you, we suggest signing up for our monthly wine pairing:
Here's what's included:
A bottle of wine
Perfectly paired accompaniments
Invites to special events
Exclusive discount offers
Waiver on all corkage fees
All for just $29.99+tax each month!
Stop by the Corkscrew starting on the 1st Sunday of each month to pick up your goodies. You can take them to go, or you are more than welcome to stay and enjoy them in the company of friends here at the Corkscrew. We'll do all the work, you have all the fun - Sign up today!
If this purchase is for a gift; when processing payment in the shipping information provide us with the information for whom you are gifting this for and in the "notes" section please note this is for a gift with your phone number. We will call you to confirm the details.
Gift cards & Gift Baskets
Shop Local!
Corkscrew Wine and Cheese offers you unique gift options for the hard to shop for person!
Both options are perfect for all occasions such as; birthdays, holidays, engagement, weddings, co-workers or just a nice way to say thank you.
Gift Cards.
Cards can be used at both locations! No restrictions! You select the amount!
When processing your purchase, please provide the address where you want the card sent in the shipping information. If you are sending this as a gift; in the "notes" section please provide the name and message you would like to add to the card (optional).
Gift cards will be sent via US mail within 24 hours.
Please call if you have any special requests or questions.
Gift Baskets
Need a unique gift idea for corporate coworkers, clients, personal friends or family?Problem solved!
Gift Boxes Include one or two bottles of wine with Olive Oil & Sea Salt Crackers, Wisconsin Cheese, Mille Lacs Original Beef Summer Sausage and Chocolate Caramel Popcorn!
Making Gift Basket purchases online will include a $10 delivery fee (Omaha area only).
Gift Baskets are available for purchase onsite at both locations.
When processing the purchase in the "note" section please provide the name of the person, address, preferred date & time you wish to have this gift basket delivered and a personal note that you would like on the card (optional). If purchasing one bottle option, please indicate if you want Red of White.
Next Business Day delivery is available in Omaha if an order is placed by Noon CST. Please call the Jessica if requesting a specific time and date for delivery.
Custom Basket request or if you have any questions please call or email Jessica Keith
Jessica@corkscrewwineandcheese.com or Cell 402-670-7565
One Wine Bottle Option
Locations
Corkscrew Wine & Cheese has two locations. The Rockbrook location first opened by Corey & Anne Keith in 2005. The second location opened January 2015 by Corey Keith & Jessica Keith (Sister).
10924 Prairie Brook Rd
Omaha, NE 68144
402-991-2927
corey@corkscrewwineandcheese.com
Hours:
M-Th 11am–10pm
Friday 11a–12am
Sat 10am–12am
Sun 12pm–8p
3908 Farnam St.
Omaha, NE 68131
402-933-3150
jessica@corkscrewwineandcheese.com
Hours:
M-Th 11am–10pm
Friday 11a–12am
Sat 11am–12am
Sun 12pm–8p